Top Commercial Roofers in Jacksonville FL
Weatherlock Roofing Contractor is a Florida state certified comemrcial roofer with extensive experience in the industry and a very wide skill set. There isn't much that we haven't seen when it comes to commercial roofing and there is nothing that we cannot handle! We are on a mission to provide all our clients with top-tier roofing services that they deserve, no matter the size and the scope of the roofing project. If your commercial roof has a problem, Weatherlock Roofing Contractor has a solution! Give us a call anytime!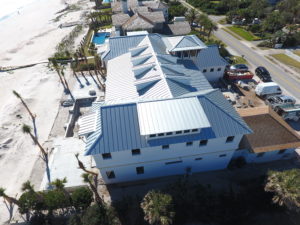 We understand that your commercial property, building or business is a big investment that you want to preserve and maintain in great shape for as long as possible and we want to help you in that process. All care and maintenance of a commercial property should start with the roof as it is the first and most important line of defense from outside elements.
Our commercial roofing team has highly specialized knowledge and skills that commercial roofing projects require and they approach every job with great dedication and attention to detail. We will provide you with the highest-quality roofing materials for your building that will stand the test of timeand keep your business safe and protected for many years to come.
At Weatherlock Roofing Contractor, we put great emphasis on customer satisfaction so in addition to best roofing services, you will also receive unmatched customer service. We treat all our clients like our friends and neighbors and each roofing project is equally important to us, no matter the type and scope.
Commercial Roof Replacement
Our team of commercial roofers is highly skilled in all types of commercial roof installations and replacements. Commercial roofs usually require a specialized skill set, great dedication, and attention to detail as these roofing systems are more complex and more extensive than residential roofs.
With the Weatherlock team, however, you have nothing to worry about. We have the skills and the extensive training needed to successfully complete any commercial roof replacement.
With numerous projects and satisfied clients behind us, we continue to provide you with the highest standards of quality and the most durable and resistant roofing solutions in Jacksonville FL. Using top-quality roofing materials and special reinforcing techniques during installations, we will give you a roof that will stand the test of time and provide excellent, long-lasting protection.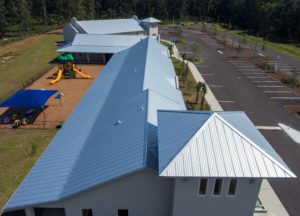 In addition to roof replacements, you can always turn to us for top-notch commercial roof repair services as well. We are very thorough when it comes to repairs and we rely on advanced tools and great expertise to tackle any issue and get your roof into great shape. Our local commercial roofers in Jacksonville FL will pinpoint any trouble areas quickly and accurately – and deal with them swiftly! We pride ourselves on getting the job done right the first time – every time – so that there are no underlying issues or damages left behind.
And since our beautiful coastal community of Jacksonville, FL is known for occasional wind storms and hurricanes, we will provide you with a roofing system that will endure the harsh coastal environment! With your go-to Weatherlock roofing team, your hurricane and wind-resistant roof will get back into top shape and will hold up to rough weather year after year!
Commercial Roof Inspection
Why risk leaks and serious damages to your roof when you can prevent them altogether?
Regular roof inspections serve to prevent greater issues on your roof and to catch any minor issues on time. This way, a lot of unnecessary stress, as well as higher costs, can be avoided and your building can stay safe and protected.
At Weatherlock, we provide you with a grade-A, 21-point roof inspection that will leave no area of your commercial roof in Jacksonville FL uninspected. We will carefully examine all aspects of your roof to determine existing and potential issues and then suggest the best course of action that will ensure that your roof maintains its function.
Why Choose Us for your Commercial Roofing Needs?
When it comes to commercial roofing in Jacksonville FL, the Weatherlock team is your go-to industry roofer! Whenever you need us, we will provide you with:
Don't let your hard-earned investment go down the drain! Keep your home looking good and new by completing a roofing inspection at least once a year. Doing so significantly cuts your risk of water damage. Our local roofing company performs comprehensive roofing inspections so don't hesitate to call us anytime! With our team on the job, you will sleep easier at night.