Best Residential Roofers in Jacksonville FL
Weatherlock Roofing Contractor is a family-owned and operated business whose main goal is to provide you with the best possible roofing services in Jacksonville FL you can get. We started our company with a mission to give our locals the quality they deserve – at the prices they can afford – and we've continued with that mission to this day.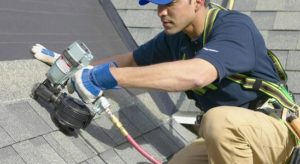 At Weatherlock Roofing Contractor, we understand what a difference a quality roof can make and what it means to you to feel safe and protected inside your home. After all, we are homeowners just like you! We will always treat your home as we would our own and strive to provide you with unmatched roofing services and personalized customer care.
Our Jacksonville roofing professionals are highly skilled in all types of residential roofing projects and will complete them according to the highest industry standards. They have substantial experience and numerous roofing projects behind them but they also undergo continuous education to stay up to date with the latest industry methods, techniques, and equipment. In addition to that, they are always at your disposal to answer any roof-related questions that you may have and to guide you through the roofing project at your home.
Residential Roof Inspection
We provide our clients with an array of top-quality residential roofing services, including our grade-A 21-point roof inspections. These inspections are very thorough and the starting point of every roofing project that we do. They allow our expert residential roofing crew to accurately pinpoint any issues or damages, determine the best course of action for your specific situation, and get your roof back into top shape.
We believe that being proactive with your roof maintenance, instead of waiting for the damage to appear, is essential for preventing costly issues with your home. That is why we advise our locals to call us at least once a year to conduct a roof inspection and prevent serious issues such as interior water damage, rotting under the decking, mold and mildew, etc.
One of the realities of living in a coastal town is that destructive wind storms and hurricanes are bound to happen and pose a threat to your roof. If you have missing or broken shingles, if you've noticed roof leaks or water damage inside your home or if there is any other issue on your roof, there is no need to panic. Our Jacksonville roofers are ready to handle them all!
After carefully inspecting your roofing system, we will take care of any roof repairs  that you might need and provide you with the best storm damage recovery and repair services. And to make things even easier for our clients, we will also help you with the entire insurance claim process and handle the paperwork on your behalf.
Residential Roof Replacement
We use highly durable roofing products and materials as well as a series of tested reinforcing techniques and installation practices. This allows us to provide you with only the best roofing systems that guarantee supreme protection for your home! Your new roofing system will be ready and strong enough to endure any storm and you will be safe and protected inside of your home for many years to come.
Why Choose Us for your Residential Roofing Needs?
Weatherlock roofing team is unmatched when it comes to residential roofing services in Jacksonville FL. We can provide you with:
Don't let your hard-earned investment go down the drain! Keep your home looking good and new by completing a roofing inspection at least once a year. Doing so significantly cuts your risk of water damage. Our local roofing company performs comprehensive roofing inspections so don't hesitate to call us anytime! With our team on the job, you will sleep easier at night.