GUTTER INSTALLATION & REPAIR
Gutter Installation & Gutter Repair in Jacksonville, FL
Did you know that gutters play a crucial role in protecting your home or business from top to bottom? Next to the roof, gutter and downspout system is the most important part of your property that protects it from the elements and prevents leaks. Gutters help your roof function properly by preventing water from pooling on top of it. When water pools and stands on the roof, it can slowly start seeping under the surface, into the underlying structures, and into your interior walls and ceilings. Without gutters, water will also seep down your exterior walls or siding, causing damage along the way and even reaching into your basement and the foundations. All of this can lead to serious and costly structural damages and that is exactly what we want to prevent. Don't let preventable water damage cause costly damages to your property but call your best Jacksonville gutter professionals to make sure your gutters are functioning properly!
Residential Gutter Replacement & Repair in Jacksonville FL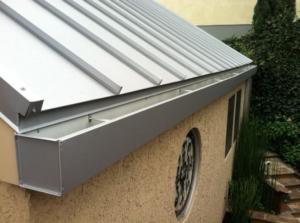 At Weatherlock Roofing Contractor, we have seen the great extent of damages that a malfunctioning gutter system can cause to a home. Loose, detached, cracked, broken, and clogged gutters can cause water to pool on your roof, flood your basement or cause leaks inside your home. Luckily, nearly all these damages are completely preventable if you act on time. As soon as you notice gaps or cracks in your gutter system, if your gutters are not very tightly attached anymore or parts of it are loose, call your Weatherlock team as soon as possible.
One of the first things we will do when we arrive at your home is a full grade-A inspection of your roofing system, which also includes the gutters. This detailed inspection consists of a 21-point system and will leave no stone unturned – or better to say, no shingle unturned! We will make sure that your gutters are in full working order because if they are not – soon your roof won't be either! Severely damaged or dated gutters will probably need a gutter replacement, while gutters that have experienced minor damage might only need some repairs.
Our skilled and experienced team is unmatched in this area and will provide you with top-tier gutter replacement and gutter repair services. They will make sure to get your gutter system back into shape and prevent any further damage and complications. At Weatherlock Roofing Contractor, we use only the highest-quality materials and innovative gutter solutions that will help keep your home safe and protected and at the same time enhance its beauty. Apart from replacing and repairing the gutters on your home, our team will also educate you on the importance of gutters with their helpful tips and advice. We want to make sure that you always get the best of the best and at prices that you can afford! We are always here to help you and advise you!
Commercial Gutter Replacement & Repair in Jacksonville FL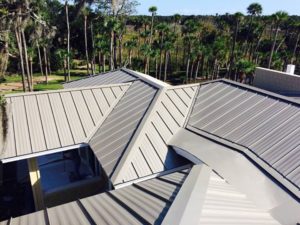 We have witnessed a wide array of issues that commercial properties and businesses without gutters are faced with. And just like with residential properties, gutters play an equally essential role in preventing those issues from developing. If your gutters are damaged or old and dated, don't hesitate to call us in to repair or replace them. Dated gutters will not perform as well as a new and improved gutter solution would, so the most economical option for your property, in this case, would be to install a new system.
In case of some minor damages, however, such as cracks, gaps or a few loose parts, a quality gutter repair will suffice. Weatherlock team has substantial experience with both gutter replacement and repair, and will undoubtedly provide you with the best gutter services in the area. Our licensed and certified professionals will start each gutter project with a thorough 21-point, grade-A inspection.
We will check to see if the gutters are firmly attached to the roof and the exterior of your building, as well as if there are any cracks or gaps. Another important thing we will do is make sure that there are no clogs in your gutters and that water can flow unobstructedly through them. In case we find any type of issue, we will resolve it quickly and efficiently, making sure that you welcome the next rain with a fully-functioning gutter system! With our high-quality gutter repair services in Jacksonville FL and a team of experts that always have your back, your commercial property will be in shape to endure any storms, rains, and other types of harsh weather.
Why Choose Us for Your Gutter Replacement and Repair?
Your Weatherlock roofing and gutter team is your best choice when it comes to gutter repair and replacement in Jacksonville FL because we provide you with:
Don't let your hard-earned investment go down the drain! Keep your home looking good and new by completing a roofing inspection at least once a year. Doing so significantly cuts your risk of water damage. Our local roofing company performs comprehensive roofing inspections so don't hesitate to call us anytime! With our team on the job, you will sleep easier at night.